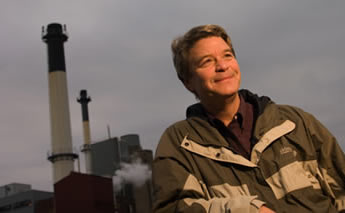 Jerald L. Schnoor
Professor of Allen S. Henry Chair in Engineering, Civil and Environmental Engineering, Occupational and Environmental Health, etc.
4119 Seamans Center for the Engineering Arts and Sciences
The University of Iowa
Iowa City, IA 52242
University of Iowa professor Jerry Schnoor co-founded the Center for Global and Regional Environmental Research (CGRER) in 1990.
As the organization's co-director, Schnoor allocates seed grants, organizes symposiums, and conducts lectures nationwide about environmental change. Along co-director Greg Carmichael, he makes yearly budgeting, managerial, and promotional decisions for the Center.
Schnoor is a professor in the departments of civil & environmental engineering and occupational & environmental health. He joined the University's College of Engineering in 1977, and now holds the esteemed Allen S. Henry Chair in Engineering. His research interests include carbon sequestration, water quality modeling, phytoremidiation, and the causes of global warming.
In 2007, Iowa Governor Chet Culver hired Schnoor to head the Iowa Climate Change Advisory Council (ICCAC). A 27-member panel of academics and professionals, the Council guides Culver's effort to reduce Iowa's greenhouse gas emissions. In 2008, the ICCAC issued its final report, a 470-page document to direct the governor's environmental agenda.
Also in 2007, Schnoor became editor-in-chief of Environmental Science & Technology. Launched in 1967 by the American Chemical Society, ES&T is a bi-monthly magazine that publishes both peer-reviewed scholarly research and journalistic feature articles. The publication ranks among the leading international environmental journals, according to recent Impact Factor and citation figures.
Among his prior achievements, Schnoor testified before the United States Congress to support the Clean Air Act Amendment of 1990 at the request of the Environmental Protection Agency's head administrator. He has also serve on several commissions for the EPA, including the Board of Scientific Counselors and the Scientific Advisory Board.
Schnoor earned a Ph.D. in civil engineering in 1975 and an M.S. in environmental health engineering in 1974 from The University of Texas. In 1972 he received a B.S. in chemical engineering from Iowa State University.
He represents The University of Iowa and CGRER at numerous speaking engagements every month. Schnoor has addressed politicians and elementary school students alike about green energy, climate change, and reducing atmospheric carbon emissions. Along with his scholarly pursuits, Schnoor and his CGRER graduate assistants have planted over 250,000 trees to help sequester carbon from the environment.